Cliff Pickover, the prolific author of more than forty popular science and mathematics books, has outdone himself with his latest compilation: The Math Book. This is a collection of 250 "milestones" of mathematics throughout history, complete with breathtaking glossy color illustrations for each entry (a first for his books), as well as insightful descriptions that explain the history and the significance of each of these marvels of mathematics.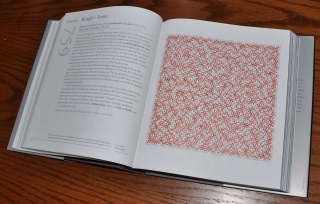 This book is especially significant in one other way: it contains my artwork! The book's entry on Knight's Tours (p. 186) familiarizes the reader with the history of this problem, dating all the way back to Euler in 1759. And, alongside the article, Pickover displays a 30×30 knight's tour that was solved by my neural network knight's tour implementation. For the picture in the book, I used a modified version of the program that generated a sufficiently hi-res image. That particular knight's tour took about 3 days for my computer to generate.
I'm deeply grateful to have one of my creations published in a book by someone as influential as Cliff Pickover. Of course, it's all of the 250 entries in the book that make it an incredibly fascinating stroll through the history of mathematics. As mentioned elsewhere, this book definitely has bestseller potential, and could easily be one of Pickover's best works. Buy the book now!