I've just released a pretty significant update to DiskDigger for Windows, which introduces numerous improvements and features not only for casual home users, but also for professional investigators and forensics specialists. Here are the highlights from this update:
Now using a "Ribbon" interface, which contains navigation (Back / Next) buttons, configuration settings, and recovery options (see screenshot below).
Every section of DiskDigger's workflow now has a "Help" button where you can find answers to common questions about the recovery process.
In "dig deeper" mode, you can now save and restore sessions (in the Advanced tab).
In both "deep" and "deeper" modes, you can now save a detailed report (in the Advanced tab) which is a log of all recoverable files found by DiskDigger, along with basic meta-information for each file.
Improved support for scanning disk images. In the Advanced tab when selecting a drive, click the "Scan disk image" button. For forensic-strength scanning of disk images, you can control the number of bytes per sector (all the way down to 1), for recovering files that may not be aligned to sector boundaries.
Added support for recovering raw images from Panasonic/Lumix cameras.
DiskDigger now requires .NET 4.0. Therefore, for running it on Windows XP or Windows Vista, you may need to install .NET 4.0 from Microsoft if you don't have it installed on your system.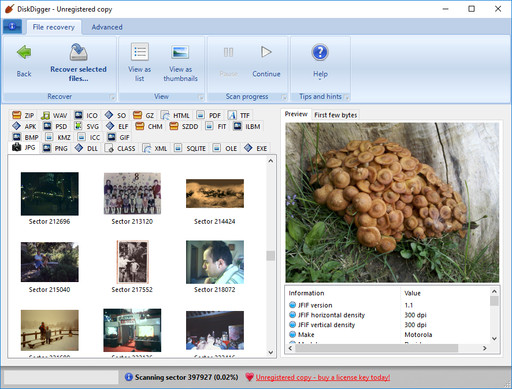 If you've accidentally deleted or lost your files, DiskDigger is always here for you!