One would have thought that the FAT12 file system was safely a relic of the 1980s and 1990s, when it was used as the default file system for floppy disks and very early hard disks. FAT12 would be entirely impractical today, since it can only cover a maximum of 32 MB of disk space. However, I was surprised to find it very much alive today, in the most unlikely of places.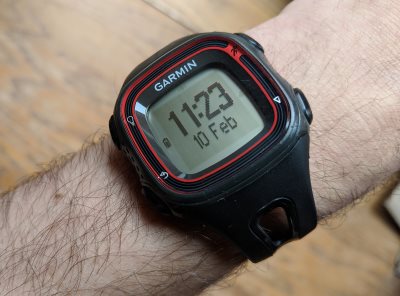 When I go running, I use my trusty Garmin Forerunner 10 watch, which uses GPS to record my position and pace during the run. When I connect the watch to the USB port on my PC, it appears as a mass storage device, and allows me to retrieve the workout files (stored in the FIT format). It hadn't occurred to me until now to check out the finer details of this mass storage device, but there were a few things that surprised me:
The entire size of the watch's flash memory is actually just one megabyte! I'm guessing this is because they want to discourage users from using the watch for general storage (i.e. dumping of photos, documents, and so on), thereby unnecessarily wearing out the flash memory. It also encourages the user to offload the workout files relatively often, in case the memory ever gets corrupted or the watch is lost. It's also possible that this watch uses a more expensive type of flash memory (one that is more resilient to wear and tear), which would make it prohibitively expensive to provide multi-gigabyte sizes that we breezily expect in today's USB flash drives.
You guessed it: it uses FAT12 to organize the files in the flash memory. Because why not! With a total disk space of 1 MB, this is really the simplest and most compatible solution they could have chosen.
Therefore, hats off to Garmin for not overcomplicating things, and making use of a tried and tested solution that is sure to remain compatible and future-proof.