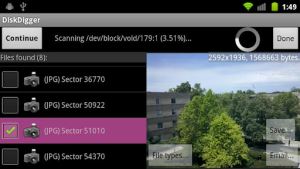 I'm happy to announce that DiskDigger is now available for Android devices (phones and tablets running rooted Android 2.2 and above)! You can get the app by searching for it on the Google Play Store from your Android device.  Please note that the app only works on rooted devices.
At the moment, the app is in an early Beta stage, meaning that it's not meant to be as powerful or complete as the original DiskDigger for Windows, and is still in active development.   Nevertheless, it uses the same powerful carving techniques to recover .JPG and .PNG images (the only file types supported so far; more will follow) from your device's memory card or internal memory.
So, if you've taken a photo with your phone or tablet and then deleted it, or even reformatted your memory card, DiskDigger can recover it!
I've written a quick guide that has more information and a brief introduction to using the app!   If you have questions, comments, or suggestions about the app, don't hesitate to share them!
Update: thanks to Lifehacker for writing a nice article!