When considering today's "VR" technology, the actual name "VR" is misleading: it's not really "virtual reality." A more accurate name for it would be "binocular display with motion tracking," but that name is not nearly sexy enough to attract venture capital for your startup. I wanted to put all mentions of "VR" in this blog post in quotes, but that would be too on-the-nose even for me, so just imagine that the quotes are there.
I've played with many of the major VR headsets in an "enthusiast" capacity for a while now, and I've even developed a few applications for them. I really wanted to like VR. I tried really hard to suspend disbelief and make myself like it, but I just have to admit – I don't see the appeal, and I don't see the current generation of VR technology as anything more than a passing fad.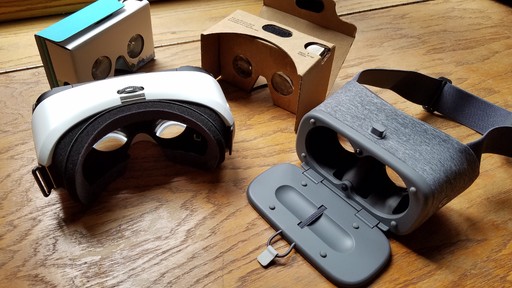 Coming soon to a landfill near you!
The only thing that the current VR experience delivers is novelty. It really is exciting to look into one of these headsets for the first time. However, the drop-off in novelty is very steep, on the order of minutes, not even hours.
There isn't any one specific deal breaker for the current state of VR. It's rather a combination of factors that, collectively, make it altogether unusable:
It's very low-resolution. In order for a VR experience to be "believable," it needs to have a resolution of at least 4K per eye. Otherwise, you can literally see the pixels when you look at the image in the headset.
It's not nearly immersive enough. The field of view of the major VR headsets is about 100 degrees, which feels unnatural, and borders on claustrophobic. And the "depth" of the 3D content in the VR display can't seem to match true natural proportions, either.
It's nausea-inducing. The sensors that track the 3D position of the headset need to be an order of magnitude more sensitive and responsive.
The "headset" form factor is still too impractical to become mainstream. No matter how comfortable the headset becomes, if it still  needs to cover your eyes and wrap around your head, you won't want to use it for very long.  Did you know that there's a Netflix app for VR devices? If watching a two-hour movie while having  a big plastic appliance strapped to your face  is your idea of a good time, then I salute you, but I would still wager that you're in the minority.
I don't believe that VR technology can move forward by addressing any one of the above points. It would need to be a quantum leap of technological advancement.  And honestly, once the collective novelty of VR finally wears off, I'm not sure there will be enough interest among consumers  for VR companies to work towards this next leap any time soon, except perhaps  for very specific niche markets for which VR is better-suited.
I am, of course, looking forward to the final generation of VR, which will involve a Matrix-like interface that plugs directly into your brain stem. Until then, I'm afraid we can only look forward to landfills brimming with plastic contraptions thrown away shortly  after purchase.